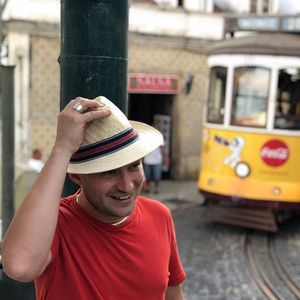 The sounds of Portuguese conversations and slow rolling suitcases down old clay cobblestone streets pave the soundscape from my 3rd floor Air BnB in the historic Alfama district of Portugal ??. My beautiful girlfriend, Chloé Caldwell of a year and a half is taking a nap in one of her new jump suits in the small bedroom as I type on my MacBook with the French doors open on a little circular wooden table. She gave me one of the most incredible surprises of my life last night as we were strolling down the Lisbon streets.
We were walking through a little courtyard that had one orange tree with green fruit poking out of a square in the pavement, tiled buildings, potted plants and a tiled bench. She said, "Let's sit on this bench for a minute," pointing to a blue and white tiled bench. "When do you ever get to sit on a tiled bench," she joked. Or a bench at all for that matter. We haven't seen many benches walking around Lisbon thus far. Sounds good to me, I thought. We've got no place to be and it's an absolutely gorgeous night. "Why don't you relax and have a cigarette and enjoy yourself," she said. Cool! I started smoking a little in Europe again because it just feels like the thing to do and I enjoy it from time to time. It's not as taboo here as it is in the states even though half the packaging of cigarette packs has a person in cardiac arrest with probably some words that read in Portuguese, "Smoking kills." 
Chloe handed me her iPhone which was opened to a page on her notes app. The glow of cell phone light struck my face as I began to read. "I just came up with this today. Read it to the very end," she nervously, nonchalantly instructed as I began reading the beautiful letter she had written me. I got to the end and the next thing I knew she had asked me to marry her in the letter and she had an open box with a ring in it. OMG!!! I was shaking and crying and said YES!! I couldn't believe it and was over the moon happy. I have never heard of a woman asking the man to marry her. It felt perfect and right and SO us. The handmade hammered titanium ring with a blue lapis band made by an artist in Grand Junction, CO fit perfectly on my ring finger. We held hands and walked the night streets of Alfama to find a bottle of red wine to celebrate. 
Over the past couple of days we have slowly walked the old windy and hilly streets of Lisbon, in awe of this unique port city; from its red clay roofs to its cascading pink and magenta flowers that fall from its walls and windows, from old yellow open air cable cars to women of all ages selling "ginja", a sweet red liquor on card tables in the old streets for 1 € a shot. I find the narrow meandering streets of the Alfama district a somewhat fitting metaphor for the meandering though not always narrow way life unfolds. Especially after a perfect proposal like the one I received from my love, Chloe Caldwell.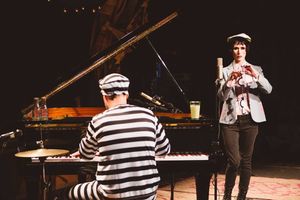 What brought you to the Hudson Valley?, was a question everyone in the cast of The Mother of Us All, an opera I musically conducted in the fall of 2017 was asked within the first week of rehearsals. Bard College was many people's answers. Divorce, was my short answer. Being on the other side of the opera and the divorce, not that there's a parallel there or anything, has taught me a lot about responsibility, dedication, perseverance and what I'm capable of. If I could raise a daughter, go through a divorce and conduct a critically acclaimed opera without totally falling on my face there's a lot more that I could do. Getting married again after all the knowledge I gained from my previous one and creating an album under my name were on the top of the list.
Milk Money is an album of myself playing piano while simultaneously playing a wooden octagon shaped bass drum that I sit on and play with my right heal and a high-hat with my left foot. It's an album of cover songs,1 original rag and a couple mashups of a couple of my favorite rap songs mixed with a Bach Prelude and a Beethoven Sonata. It also features various singers from different backgrounds, styles and ages. From Ryder Cooley, a goth like visual and trapeze artist as well as lead singer of the Dustbowl Ferries where she plays accordion and the saw, to Ella Loudon, a brilliant actress originally from England who's mother is a jazz singer and father a well known actor, to Christina Kokinis-Viggers, a naturally born singer who runs a local theater company and had a viral video hit of her singing karaoke at a Sam's Club to Tommy Stinson, a dear friend and bass player from the Replacements and Guns N' Roses and lead singer of Bash & Pop to my 8-year-old daughter, Louise.
I wasn't sure how this album was going to be recorded or what it was going to be called. I wasn't sure what songs were going to be on it or if I could learn all the material on it. I only knew that it had to happen before leaving with my honey to Portugal and Spain on September 12th of 2018. 
July of 2018 was spent musically directing for NDI (National Dance Institute) in the Catskills of New York and CTB (Celebrate the Beat) in Aspen and Vail, CO. While in Aspen, after visiting one of the 8 weed dispensaries after work, I took the shuttle bus into town and found a corner of a French cafe at the base of Aspen mountain and started creating a timeline for what I'd later call, Milk Money. Shit!, I thought to myself. This could actually happen! By the time I put most of the dates into the calendar the cafe was closing. I was high, hungry and stoked!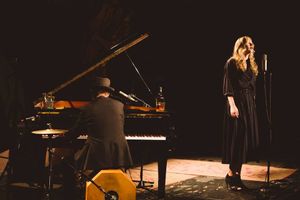 Christina was the first person I called about recording. We played phone tag for about a week or so before finally connecting while I was practicing up in the music room of the Aspen Community School in Woody Creek, CO. She sounded excited and into it. She also said that our friend, JD Urban, a talented and motivated videographer would be into video recording it as well. "Great idea!," I said. I texted Ella shortly after that who is almost always down for anything. We've played some open mics in the past and I had her audition for The Mother of Us All which funny enough, ended up landing our photos in the NY Times. Ryder and I met at Motto, a coffeeshop in Hudson, NY and she also sounded genuinely excited. I thought her soft unique voice would be perfect to sing, "Highway to Hell" and "Karma Police". Tommy also said he was down though I knew would be a wild card since he was in and out of town a bit from touring. Tommy was the one who really helped form the shape of how Milk Money would be recorded. "Man, why don't you just do it in the club and not mess around with figuring out how to try and record it yourself," he called to tell me while I was practicing about a week before recording. "You can also borrow a couple of my mics." Jesus! That's a great idea. Ok and thanks so much!
Labor Day fell on Monday, September 2nd which was spent at Club Helsinki with sound man, Mike Schoonmaker, videographer, JD Urban and makeup artist William Sasek and all the singers at various times. It was a long ass day and by the end we captured some great music and had some awesome moments. My daughter Louise started off the day recording 3 takes of Tom Petty's, Free Fallin'. Ryder  Cooley followed singing, Highway to Hell and Karma Police wearing different costumes playing with the mood and vibe of the tunes while also drinking some oat milk she had brought. Christina Kokonis-Viggers continued with a jazzy ragtime version of I Wanna Dance with Somebody with her beautifully big voice. Ella Loudon showed up around 5 and later recorded Lennon and McCartney's, We Can Work it Out after coming back from finishing her summer residency of As You Like It with Shakespeare and Company. The bottle of Buffalo Trace bourbon I bought for the day was a prop that was consumed by Ella during these takes and led to some hilarious moments. Tommy Stinson texted around 9 and said he'd be there in 20 minutes. He came to Helsinki a bit "in the cups" as he sometimes puts it and we took a couple takes of him singing the Marshal Crenshaw classic, You're My Favorite Waste of Time. I was exhausted by the end of the night as well as excited and thankful that I recorded everything I wanted to with these amazing people.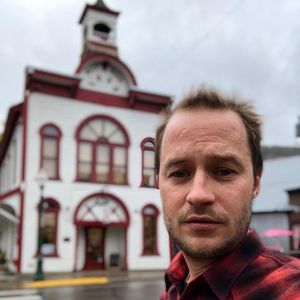 The next Wednesday was spent recording alone. I had 8 songs to record and only that day to record them. Most of the songs I could play though some I had never played straight through without making huge mistakes. Black & White Rag, rag written in 1908 by George Botsford was the first song recorded. It took me about 2 1/2 hours to record it as one take. I recorded the rest of the songs in this fashion, some not taking as long and others taking about the same amount of time. 1am rolled around and I was finally finished after an exhausting and mentally taxing day living off of garlic hummus, carrot juice, coffee and Triscuits.
After an amazing vacation to Lisbon and Barcelona, I returned to Hudson for a minute to do laundry and see my daughter Louise for a few hours and take her to her soccer game with my now fiancé Chloe. I caught an Amtrak from Hudson to Philadelphia where I worked with Ballet X for the next week. Friday night I caught a plane to Denver and drove to Crested Butte on Sunday to musically direct for the non-profit dance company, Celebrate the Beat. I finally returned home Friday, October 5th around 1:30am, ready to attend and play a wedding the following day. 
It feels great to be back in Hudson and getting back into the swing of things. Tommy Stinson is helping me with the recordings of Milk Money, my daughter Louise is in 3rd grade at a new school and I started teaching again both privately and for Harmony Project Hudson. I'm also in the midst of my first crowdfunding campaign for Milk Money. Please consider backing this album if you're so inspired.
Thanks for reading! Mais Amor!