I write from the balcony of my hotel room on the 15th floor of the Smallville Hotel in Beirut, Lebanon. I'm here working with NDI training musicians for a dance program in Lebanon called Dance by C.L.E.S. Kay Gayner and I are working in 5 school in and around Beirut where we are helping the dance teachers and musicians prepare for their end of year performances.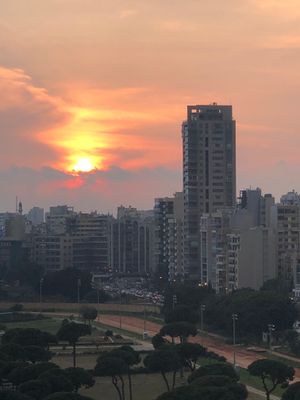 Lebanon is filled with history and culture. It has been truly eye opening and incredible to work in these schools, with these children and teachers and getting to explore Beirut the past week. There is one more week of training and performances and we finish the coming Thursday. My fiancé, Chloe is set to land in a couple of hours and I just got off of FaceTime with my gorgeous daughter Louise. It's been the longest we've been apart and that has been one of the most challenging parts of the past 4 months. 
Thank you to everyone who's been following my journey and especially everyone who backed my Indiegogo campaign for my first album, Milk Money. It was a blast recording and producing that album which culminated in an album release party at Club Helsinki a day after my birthday on January 12th. My friend from high school, Jon Singer and his group the Xylopholks joined me and it was a special and memorable night of music. If you haven't checked out the Xylopholks, do so. They're incredible musicians and the music is amazing, if you like furry animals playing ragtime music that is. Even if you don't, it's awesome!
The day after the show, my mom, Chloe and Louise and I went out to brunch at one of my favorite brunch spots in Hudson, Rivertown Lodge. During brunch I received a text via Facebook from my friend from high school, Jesse Elder asking me if I'd like to go on a 6 week tour of Europe with the band, Postmodern Jukebox. I was floored and excited! It took some rearranging of my schedule, incredible support from my fiancé Chloe and understanding from my family (I had to miss a family trip to Sedona, AZ to be able to go on tour) before saying yes.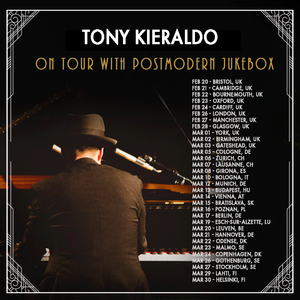 The next week however I was set to fly to Aspen, CO to work for CTB, another dance company I work for there so I was going to be gone for 2 1/2 weeks, get back to Hudson for 5 days, fly to Los Angeles for 3 days of rehearsals and then fly to London to play 32 shows in 6 weeks with PMJ all over Europe. I'll save how that experience was for another blog but in short, it was absolutely incredible and amazing making music with world class musicians in front of thousands of people and experiencing different foods, languages and cultures for 6 weeks. Life changing.
While we were in Switzerland, I got an email from my friend and colleague of 15 years, Kay Gayner from NDI asking if I'd be interested and available to come to Beirut, Lebanon and work from April 1st - 11th for a training. The timing of it couldn't have been better, though it would then keep me another 2 weeks from coming home and being away from my family. My last date of tour was March 30th in Helsinki, Finland and I was scheduled to return to the states on March 31st. Instead of flying back to NY, I booked a ticket to Beirut via Moscow on Aeroflot, Russian air.
I woke the morning of the 31st in Helsinki, spent 8 hours in the Moscow airport and landed in Beirut close to 2am Monday morning. I began work Monday morning at 9am and the next thing I new I was working in schools in Lebanon. 
I'm incredibly grateful for all of these opportunities and for everyone who is following my journey.
Next weekend I am taking Chloe to Byblos, the oldest continuously inhabited city on earth dating back 7,000 years BCE. It has been inhabited by 24 different cultures, paper was invented there as well as the alphabet. It was also where the Bible was written, hence Byblos–Bible. The journey continues and we return the following Tuesday where I'll be back in Hudson, finishing up working with Harmony Project, an after school program I work for and.....getting married to my love on May 25th!