It's interesting how social media claims to bring us closer together yet at that same time divides us further apart. I've often found myself down an endless scroll to the bottom of nowhere, wondering what catalyst will make me say, ok, time to do something else. Lately, I've found TikTok to be my social media hole of choice. They've done a great job with their algorithm in holding my attention, and my brother's for that matter. My brother, someone who created a Facebook page and never uses it and doesn't do Instagram, got into TikTok after I showed him some funny videos a couple of Thanksgivings ago. We both have a similar sense of humor and I haven't seen him laugh that hard in years. We'll text each other TikTok's and laugh because more often than not, we've already seen the ones we've texted each other.
This week I took a few days off from opening any social media apps. I didn't delete them from my phone or post that I'm off social media or deactivate my account, just challenged myself not to open them. I wanted to see what it would feel like and what my impulses would be to not open Instagram, Facebook, or TikTok. On the first day off, I laughed out loud when I caught myself almost opening Instagram. I laughed because it was so natural to sit down and open Instagram because I had an extra minute or so. It was a mindful way of observing my mindfulness.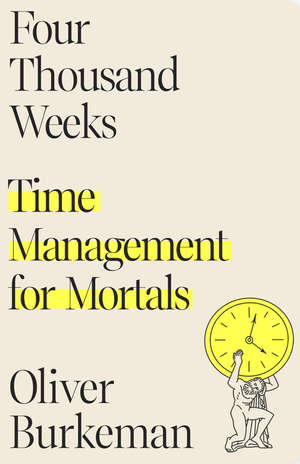 Chloe and I visited Northshire Books in Saratoga Springs last week, "New York State's biggest bookstore north of NYC". Lately, I lean towards the self-help, spiritual, and business sections of bookstores. My wife knows me so well and pointed to a white-covered hardcover book that stood face out on the top shelf of the self-help sections, Four Thousand Weeks: Time Management for Mortals a NY Times Best Seller. Perfect! I'll take it along with Daniel Pink's new book, When.
I'm a little over halfway through with Four Thousand Weeks and have been loving this book. It's a refreshingly sober look at time and its finitude in a lifetime. It's unlike a lot of other productivity books I've read that give you exercises and assignments to become more efficient or better or smarter or more than who you already are. It starkly looks at a human life in quantifiable ways, like the title blatantly states, four thousand weeks. If we live to be 80, that equates to about four thousand weeks.
The author, Oliver Burkeman invites us to think about age-old questions by blending thoughts from some of the greatest minds in history and how they relate to our modern-day. What do we do with that time? How do we give meaning to things in our lives? When we choose one thing, what are the things we choose not to do? 
This book was also a catalyst, as well as conversations with Chloe this past week, about looking at social media in a new light or a more intentional light. It gave space around the mindless act of scrolling and what made me look at what I was getting out of the time spent and lost on social media. I've become accustomed to filling the little spaces of time in-between activities or work or taking a shit or making coffee or eating, with scrolling.
Four Thousand Weeks helped me look at social media in a new way and make me question the way I consume it or maybe more likely, it consumes me. Since taking a break this week from the socials I've found enjoyment in reading more and listening to books. I've played more piano and felt less anxious. Instead of opening the social media folder on my phone, which I still navigated to several times this week, I've gone to open the NY Times and Duolingo instead. Or I just put my phone down.
All that being said, I did open Instagram to write to a couple of people today and post a video of Louise practicing a Neil Young song called Cinnamon Girl on my Insta story. The days are getting a little longer though it's still below freezing. I vacuumed my studio and took down some vines that have been strangling the cherry trees in our yard.