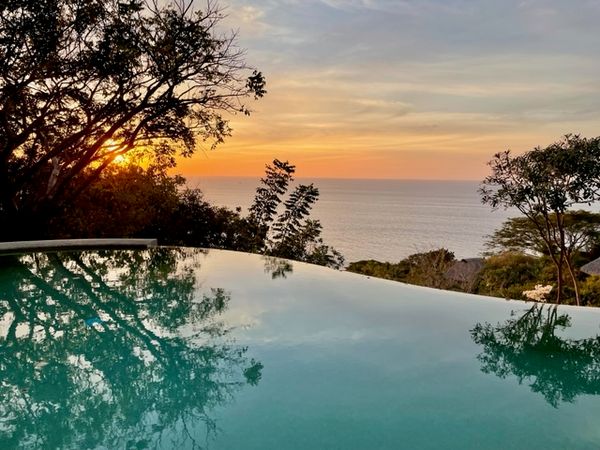 The internet keeps going in and out at the Amor Boutique Hotel in Sayulita, Mexico where I've been staying the past few days with my family. I was waiting for the internet to work to write today and then I thought, that's a funny excuse for not writing, "the internet was out". 
It's sunny, mid 70's and this open-air villa that we're staying in is called the Arbol Suite feels like a Mexican/Buddhist treehouse. There are three rooms and a huge open area with an open kitchen, plunge pool, fountain, and lounge area that looks over the bay in Sayulita. Two long-tailed raccoon-type creatures went through the garbage and some crackers we left out the other night. I bet they must love this suite and people like us who forget that you have to put food away or the animals will eat them, even if you are told at check-in to do so.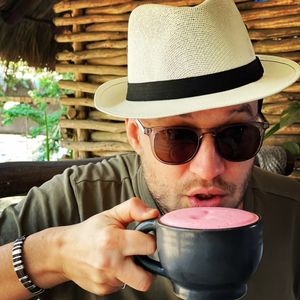 I feel so incredibly grateful to be here with my family and for everyone making the trip to celebrate my 40th birthday this coming Tuesday, January 11th. Chloe and I went to Tulum in April during the pandemic last year and I remembered how much I love the ocean and travel. Living in the Northeast of the US, especially through winter can be long and dreary. I think it's important to find a way to break it up if you are able. 
Chloe and I walked into town this morning and went to a cafe called Organi-K. They served various healthy juices, smoothies, and acai bowls. I tried a red juice of some kind with a pink latte.
I just paddle boarded for the first time with my brother. The waves were a little choppy and I bailed a few times until I finally got the hang of it. I want to go back out there and do it again right now! The feeling of being in the ocean and having to find your balance with its movement is incredible. It's a total meditation, feeling how the board sways with the wind and waves. I also had a couple of shots of tequila before so I couldn't tell if it was waves or the alcohol impairing my performance. Most likely the tequila didn't help. When facing the sun on the water, shimmers of blue and whites sparkle off of the ocean waves like shimmering stars. This is one of the many reasons why I love being by the ocean.