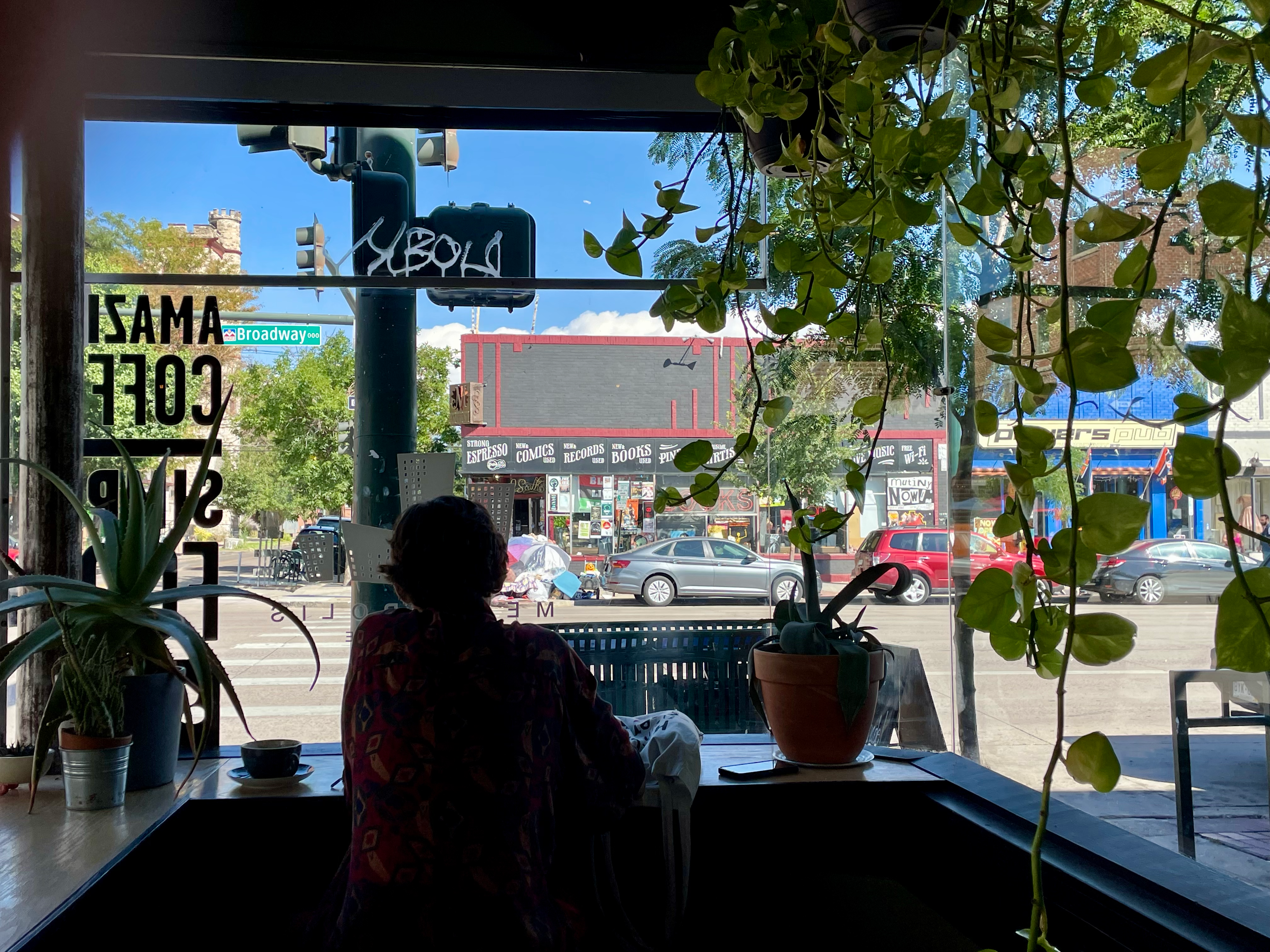 I'm drinking my third almond milk cappuccino of the day at a cafe called Metropolis Coffee on Broadway Ave. in Denver, CO. There's a healthy jade plant to my left and a guy to my right with 4 earrings in his left ear looking out across the 3-lane avenue at a homeless dwelling of umbrellas in front of an anarchist book, record, coffee store called Mutiny Information Cafe. 
The first two cappuccinos I consumed at a cute French restaurant around the same area called Bon Ami for brunch earlier in the day. It's about 20 after 15:00 on a Sunday. There's a persistent af fly buzzing around me and landing on my hands while I'm typing. 
I'm in Denver working with a non-profit dance company in Colorado called, Celebrate the Beat, (CTB). Celebrate the Beat provides the highest quality in-school, after-school and virtual dance programs for all children that improves their physical health and well-being, inspires them to believe in themselves, and establishes a standard of excellence that impacts all aspects of their lives.
Last summer, I started drinking almond milk cappuccinos during the pandemic after finding out that they only have around 80 calories. I started caring about calories because of Noom, this weight loss/ health habits app that helped me look at food in a new way. Now, I go back and forth between drinking almond milk cappuccinos and black coffee, which has around zero calories. Currently, I'm not Nooming nor paying attention to calories with such diligence.
Another habit I picked up in 2020 was learning French on Duolingo. As of today, I'm on a 621-day streak of practicing French on the Duolingo app. You'd think I'd be fluent by now! Nope, I'm going to need some immersion to really have the language sink in. Sacrebleu!
I'm a sucker for a good app that helps improve your life in some way. On the same token, I'm also a sucker for a good app that sucks me in until I'm like, wait, why am I on here? What's your favorite app?
The hardest part of 2020 was the sudden loss of my father, Joe Kieraldo. Dad passed the evening of October 23rd of a heart attack. I spoke with him that night on the phone while I was making dinner. A few hours later my mom called me with the news that dad had past. I was in my studio working on a #minuterags video, a cover of the Cranberries song, Zombie. I was in complete shock and couldn't sleep. My incredibly supportive wife, Chloe was buy my side the entire night.
Dad was my biggest fan and was the absolute best guy and father in the world. He shared his love of jazz and classical music with me as well as his love of a good joke and comedian. He had the best laugh, biggest heart, sense of humor and I miss him every day. 
We had a beautiful celebration of life for him around what would have been his 80th birthday, August 12th in Madison, WI. My daughter, Louise, who is now 11-years-old sang the Rainbow Connection and played guitar while I accompanied her. There were around 130 people who showed up from various times of his life. The weather was perfect, which my mom said was the one thing my Dad had to do. He did. I felt so grateful for the day and everyone who was there to remember and celebrate a life well lived.
At my dad's celebration, I also premiered a couple new rags I composed during the summer of 2020 which are part of my new album, the Hudson Ragtime Piano Suite. The album is dedicated to him. The book is dedicated to him as well as the people of Hudson, NY.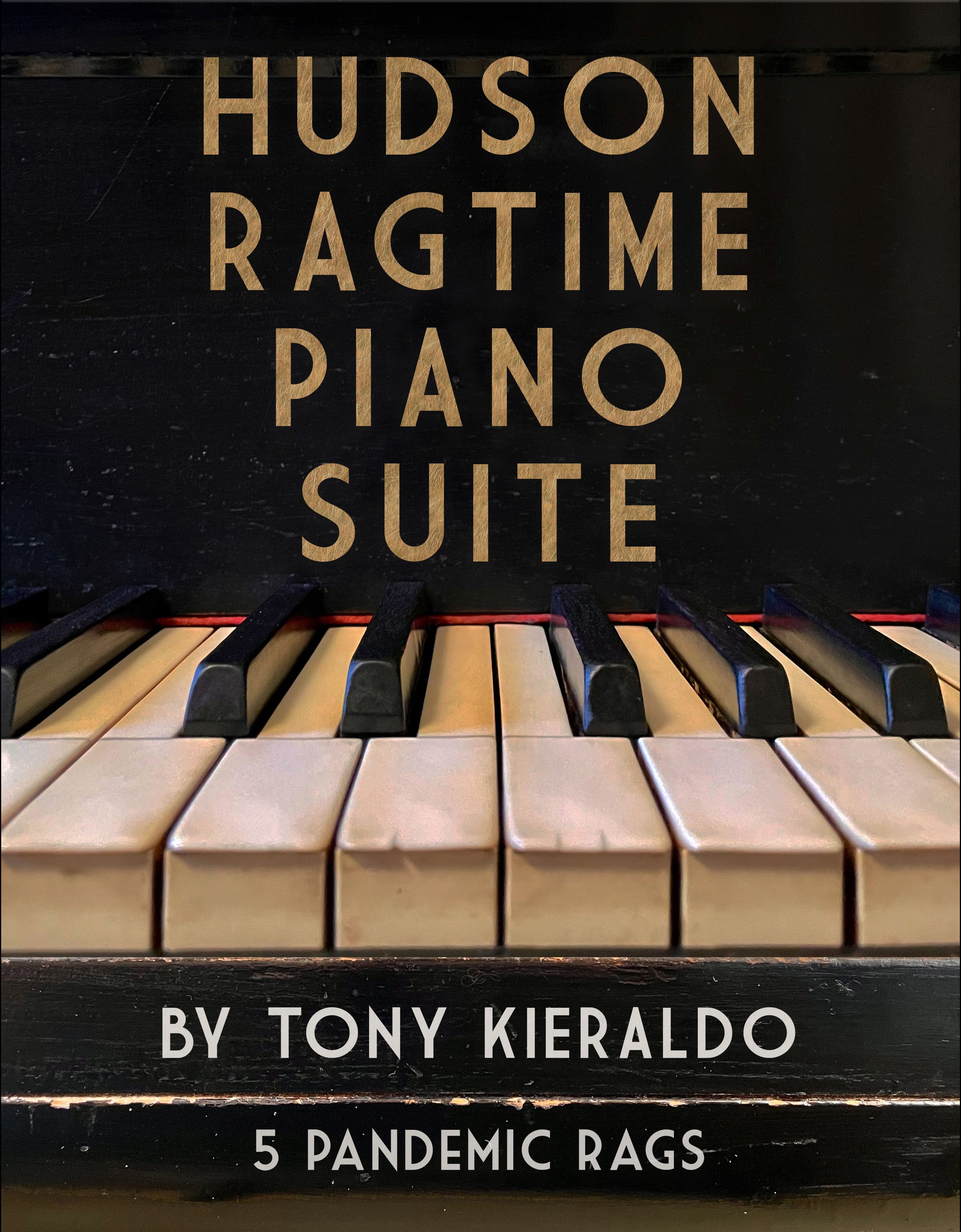 The Hudson Ragtime Suite is my latest musical project and consists of a book, vinyl and digital music. The idea began during the summer of 2020 when I applied for and received a $500 grant from the Hudson Arts Emergency Program to create a work of art. My idea was to compose a rag for each of the five main east-west street of Hudson, NY. 
The Hudson Ragtime Piano Suite consists of a musical book which includes two historical maps and historical backgrounds of the 5 streets which were written and researched by Brenda Shufelt, Jim Hoon, & John Craig of the Hudson Area Library History Room. Brenda was a huge help in making that happen, thanks, Brenda! There is also a limited run of 12" vinyl records which I put out on Protzebie Records, a fictitious record label. 
Protzebie was one of my dad's favorite words. It was a Polish word used as a non-sequeter gag in early Mad magazines from the 1950's. Techincally the word is portzebie but my dad always said and pronounced it as protzebie. To me, protzebie rolls off the tongue easier than portzebie. So the Hudson Ragtime Piano Suite is the debut release on Protezbie Records.
I learned a lot about Hudson, ragtime, musical notation and a lot more in creating this project. I'm grateful for the help of Jeremy Siskind in helping edit the musical scores. I have never paid that close attention to notation before and learned a great deal from this brilliant pianist/composer/teacher.
The album release party for the Hudson Ragtime Piano Suite is Friday, October 8th at Hudson Hall at 7 pm. The show will weave the Hudson Ragtime Piano Suite with video interviews from elders about their memories from growing up in Hudson. The Spotty Dog will be selling the book, vinyl and more at the show. 20% of proceeds will go to Kite's Nest, a local educational non-profit that does great work in our community and that I've both taught for and that my daughter has attended.
I'm incredibly grateful for everyone who has helped with this project. Thank you so much!